show less
show more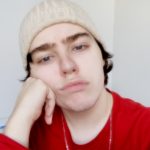 @kylecassin
I need a pathetic faggot to offer me a tribute. Master needs a good cash slave. I want to drain your bank account. I want to use you and your bank account.
View
Base
Name

Kyle
Age

19
Country

United Kingdom
City

Brighton
Member type
I am into
About

Master wants a new toy. I'm a broke university twink looking for a cash fag to submit to a young teenage dom. Twitter @kylecassin.
What are you into

humiliating older men. I like having power over someone with more life experience than I do. Get in line fags.
Website

paypal.me/mrkylepants
Payment methods used
Snapchat

kyle_cassin
whatsapp

+1 (630) 802-2130
kik

kylecassin
Email